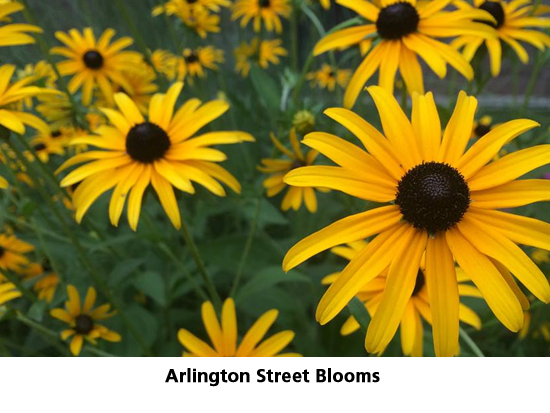 Featured

Bring A Friend Sunday!
Sunday, October 19th ~ 11:00 am, Sanctuary
Welcome friends and families to this Sunday dedicated to sharing the spirit, the joy, and the nourishment of our worship together! There is a lot going on Today! In addition to our regular events, we hope you enjoy the music of the Unity Singers, and stay for Rev. Jade Angelica's book reading after the service! What a great day to experience Arlington Street! All are welcome!
Unity Singers
Sunday, October 19th - 11:00 am, Sanctuary

Arlington Street Church welcomes a special guest ensemble, the Unity Singers, from the Unity Church-Unitarian in Saint Paul, MN. The Unity Singers is a nineteen voice choir directed by Ruth Palmer. Their vision is to illustrate the human experience through words, harmony and spirit. Sunday, they sing pieces from three acclaimed Minnesotan composers spanning three generations: Jake Runestad, Elizabeth Alexander, and Dominick Argento. Please welcome these special guests!
Do You Know the Names of the People Sitting Around You?

Sunday, October 19th ~ 12 Noon, Parish Hall
Help us build a tool that will put names with faces. Be a part of our new photo directory program. We need you to make our new album complete. Schedule your photography session today.
A Spiritual Journey Through Alzheimer's Disease

Book Reading & Signing with Rev. Dr. Jade Angelica
Sunday, October 19th ~ 12:30 pm, Hunnewell Chapel
Please join Rev. Kim in welcoming her beloved colleague, Jade Angelica, whose ground breaking work offers hope, inspiration, and healing through her "Healing Moments Alzheimer's Ministry." (healingmoments.org). Rev. Jade writes, "Our mission is to improve the quality of life for persons with Alzheimer's and dementia, reduce caregiver stress, and inspire a hopeful attitude. Our intent is to help caregivers and communities develop a deeper understanding of these diseases, and nurture the belief that deep, meaningful relationships remain possible throughout all the stages of dementia."
Coffee Hour and Lunch

Sunday ~ Immediately following worship, Parish Hall
Let's all gather downstairs for coffee, soup, sandwiches, and community! If you're visiting Arlington Street Church, or would like information about Unitarian Universalism, please visit the Welcome Table.
Announcements
Find out more about these listings.

El Dia de los Muertos ~ Day of the Dead

Sunday, October 27th ~ 11:00 AM, Sanctuary

Buddha's Belly ~ The Buddhist Book Discussion and Arlington Street Zen Center

Tuesday, October 28th ~ 6:00 pm, Hunnewell Chapel
New Member Class
Wednesday, October 29th, Spiritual Journey ~ 6:00 pm, Perkins Room
Sunday, November 2nd, Meet ASC ~ 12:30 pm, Clarke Room
Covenant Renewal ~ Have You Pledged Yet?

Movie Night! "An Uncommon King"

Thursday, November 6 ~ 7:30-9:30 pm, Landmark Kendall Square Cinema, 355 Binney Street, Cambridge
Want To Showcase Your Crafts at the Holiday Bazaar?

Sundays, December 7th, 14th, 21st ~ 10:30 -10:45 am & 12-1:00 pm, Parish Hall
Coming Up at ASCenter
Find out more about these listings.

Friday Night Supper: Come Help at our Fall Clothing Closet Reorganization!
Wednesday, October 22, 5:30-8:30 pm, Parish Hall
Kundalini Yoga Class
Every Wednesday ~ 6:00 pm, Hunnewell Chapel
Social Action
GLAD's LGBTQ/HIV Legal Infoline Needs Volunteers
Register now for the next volunteer training, October 14 & 16 (5:30-9:30 pm) and October 18 (9:00 am-4:00 pm).
Fair Trade Holiday Sale!

Sunday, November 2 and Sunday, December 14
12:00 Noon - 2:00 pm ~ Parish Hall
Children's Religious Education (CRE)
CRE This Sunday
Sunday in CRE we will be meeting in our age-based groups. Laura Evonne is out of town celebrating her nephew's 3rd Birthday! Check out CRE to learn more.
Children's Religious Education Wants You!
Would you enjoy assisting behind the scenes, sharing a story or your spiritual practice, going on a field trip, leading a sex ed class, holding babies, building with legos, or digging in the dirt! If the answer is yes, please contact Laura or Erica for more information!
CRE Is on Facebook!
Check out the CRE Facebook page to see what we're up to!
ASC's Children's Religious Education Blog
Check out the CRE blog to see what's coming up and what we've been doing lately.
View ASC's Children's Religious Education Calendar
Check out the CRE calendar to see what's coming up!
Music@ASC
For more information about the following listings, please visit Music@ASC.
Unity Singers

Sunday, October 19th - 11:00am, Sanctuary

Laudate Dominum Concert

Saturday, October 25th ~ 7:00 pm, Sanctuary
$15 for adults, and $10 for students and seniors

Inside Out Concert: Bach! Featuring Violinist Kris Tong

Sunday, October 26th ~ 3:00 pm, Chapel, FREE, Donations Gratefully Accepted

Join the Arlington Street Choir this Fall!
Every Thursday ~ 7:00 pm, Clarke Room
Unitarian Universalism
If you are new to Unitarian Universalism,
"Voices of a Liberal Faith — Unitarian Universalists"
is a great introduction. Click here to watch
this ten minute video!
Special Considerations for Special Needs
The Arlington Street public transit station re-opened in June 2009 and now provides handicapped access from the transit station to street level via elevators and/or a ramp. A separate part of the MBTA project created a wheelchair ramp leading from street level on Boylston Street to the church office door.
Handicapped access to the Sanctuary on Arlington Street is provided by a ramp on Arlington Street which leads to an entrance to the Sanctuary.
During worship services, and other special events, FM amplification headsets can be provided upon request. Braille hymnals are also available for Sunday services, as well as a large print version of the hymnal and each week's order of service. Please ask an usher for assistance.
Arlington Street Church has a wheelchair accessible restroom immediately adjacent to the Sanctuary.