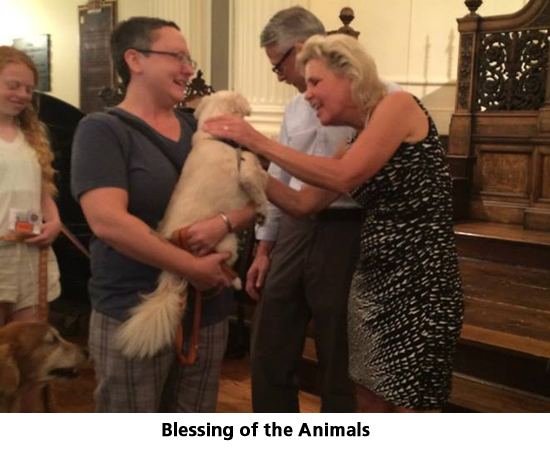 Featured
Blessing of the Animals

Sunday, September 25th ~ 11:00 am, Sanctuary
Sunday is Arlington Street's annual commemoration of the Feast Day of St. Francis. We celebrate the animal companions in our lives by welcoming them (crated, on a leash, in a bowl, in a photo) to be blessed. Come join in this happy, hilarious, and love-filled worship service!

Uncomfortable Conversations

Sunday, September 25th ~ 12:30 pm, Carol Smith Room
The Transformation Team for Racial Justice offers this time and space for facilitated discussion and continuing conversation about developing an anti-racist worldview. We plan to hold these conversations periodically at Arlington Street Church. All are welcome and no RSVP is needed. For more information or to suggest discussion topics in advance, email transformation@ascboston.org
Woody O'Kane

Sunday, September 25th ~ 2:00 pm, Sanctuary
Please join us on Sunday afternoon to celebrate the life of longtime Arlington Street member Mary Alice (Woody) O'Kane. Woody was a veteran of our choir and was with George Whitehouse in the bell tower on Christmas Eve, as always, ringing in the holiday. She will be greatly missed!

Let's Ramp Up Our Prophetic Hospitality!

Arlington Street's ramp construction project is currently featured on Faithify, the crowdfunding platform of Unitarian Universalism. With your help, we hope to raise $5,000 in the next 30 days. Find out how you can help!

In Celebration of Blessing of the Animals Coffee Hour and Lunch is Vegetarian & Vegan
Immediately following worship, Parish Hall
Let's all gather downstairs for coffee, soup, sandwiches, and community! If you're visiting Arlington Street Church or would like information about Unitarian Universalism, please visit the Welcome Table. We welcome additional volunteers to help with food preparation and, especially, with clean-up. To volunteer, and for more information about joining our team, please stop by the kitchen.
1st Annual New England Muslim Festival

Sunday, September 25th, 11:30 am - 6:00 pm, Malden City Hall Plaza
Click for more information
Car Donations Made Easy!

Start your fall off on the right track by donating a vehicle. If you are finally splurging on that new vehicle, donate your trade-in to Arlington Street. Just click the link below or call 855-500-RIDE (7433).www.cardonatingiseasy.org/donate/?CharityID=4038

The Campaign to Restore the Tiffany Stained Glass Windows

Read all about it and find out how you can participate!

Announcements
Find out more about these listings.
Arlington Street Circle of Caring

Sundays, October 2nd, 16th, and 30th ~ 12:45 pm, Carol Smith Room

Have You Made Your Pledge Yet?

Coming Up at ASCenter
Find out more about these listings.

Buddha's Belly ~ The Buddhist Book Discussion and Arlington Street Zen Center

Tuesday, September 27th ~ 6:00 pm, Hunnewell Chapel

Kundalini Yoga Class
Every Wednesday ~ 6:00 pm, Clarke Room
Social Action
Community Dialogues on War and Reconciliation

September 23rd - 25th ~ Unitarian First Church Boston
66 Marlborough Street

Uncomfortable Conversations

Sunday, September 25th ~ 12:30 pm, Carol Smith Room

Protest the Proposed Changes to Prison Visitation

Thursday, September 29th ~10 am, Ashburton Café, McCormack Building (1 Ashburton Place, near the State House)
Children's Religious Education (CRE)
CRE on Sundays
In addition to hanging out with our beloved animal friends, each group will share Joys and Sorrows and discuss the First Principle Project. If your children are planning to participate today, please be sure that you have completed their CRE registration form for the new church year. Check out CRE to learn more.
Children's Religious Education Registration is Open!
Hey CRE families, it's the start of the school year, and that means it's time for CRE REGISTRATION! Click to read more.
CRE

Sunday, September 18th, 12:30 pm, Perkins Room

ASC Youth group (8th - 12th grades) please meet in the Perkins Room for pizza and conversation before we head over to the Islamic center together!

Children's Religious Education Wants You!
Would you enjoy assisting behind the scenes, sharing a story or your spiritual practice, going on a field trip, leading a sex ed class, holding babies, building with legos, or digging in the dirt! If the answer is yes, please contact Laura or Erica for more information!
CRE Is on Facebook!
Check out the CRE Facebook page to see what we're up to!
ASC's Children's Religious Education Blog and Newsletter
Check out the CRE blog and newsletter to see what's coming up and what we've been doing lately. http://ascreboston.blogspot.com/2015/09/so-many-beginnings.html
View ASC's Children's Religious Education Calendar
Check out the CRE calendar to see what's coming up!
Music@ASC
For more information about the following listings, please visit Music@ASC.
Join the Arlington Street Choir!
Every Thursday ~ 7:00 pm, Clarke Room
Experience the spiritual practice of communal singing! Take just a couple of hours out of your week to create something beautiful, make friends, and add more music to your life! Musicians and non-musicians are welcome—we are a mix of professionals and amateurs.
Unitarian Universalism
If you are new to Unitarian Universalism,
"Voices of a Liberal Faith — Unitarian Universalists"
is a great introduction. Click here to watch
this ten minute video!
Special Considerations for Special Needs
The Arlington Street public transit station re-opened in June 2009 and now provides handicapped access from the transit station to street level via elevators and/or a ramp. A separate part of the MBTA project created a wheelchair ramp leading from street level on Boylston Street to the church office door.
Handicapped access to the Sanctuary on Arlington Street is provided by a ramp on Arlington Street which leads to an entrance to the Sanctuary.
During worship services, and other special events, FM amplification headsets can be provided upon request. Braille hymnals are also available for Sunday services, as well as a large print version of the hymnal and each week's order of service. Please ask an usher for assistance.
Arlington Street Church has a wheelchair accessible restroom immediately adjacent to the Sanctuary.