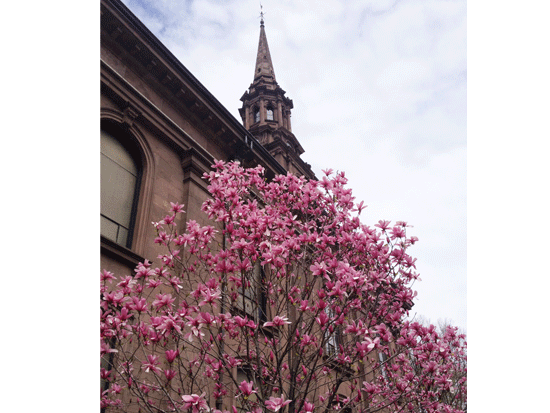 Featured
Marywood Chamber Singers

Sunday ~ 11:00 am, Sanctuary
Arlington Street Church welcomes the Marywood Chamber Singers, an ensemble of 24 undergraduates from Marywood University in Scranton, PA. The choir, conducted by Rick Hoffenberg, has performed in music series throughout the northeastern United States, and was one of eight finalists across the United States for the 2012 American Prize in Choral Performance.
Arlington Street Circle of Caring
Sunday ~ 12:30 pm, Frothingham Library
Are you battling illness, caring for someone who is ill, struggling with isolation or in the process of losing someone you love? Or have you already lost someone, and are you trying to cope with the heartbreak and anger that accompany loss and grief? If you are currently struggling, or have experienced this or any other type of life crisis and would like to share how you made it through, then please join the Caring Circle. Read more.
Memorial Day for Peace

Monday, May 25th ~ 1:00-4:00 pm, Christopher Columbus Park, 200 Atlantic Ave., Boston
Join the Vets for Peace in remembering their fallen comrades. Come to call out their names and ceremoniously drop carnations into the sea with the toll of a bell. All are welcome!
Dear Friends of Stop Hunger Now
We are delighted to announce that the meals from your meal packaging event on January 18th have been shipped in a container totaling 285,120 meals from our New England warehouse. The meals will be received by our in-country partner LeSEA Global Feed the Hungry in Malawi. Read the letter.
The Campaign to Restore the Tiffany Stained Glass Windows

Read all about it and find out how you can participate!

Announcements
Find out more about these listings.
It's Covenant Renewal Season! Have You Pledged Yet?

Annual Corporation (Congregation) Meeting
Sunday, June 7th ~ 12:30 PM, Hunnewell Chapel *Vote required
Unitarian Universalist Retreat for Gay & Bisexual Men
July 11th-18th ~ Ferry Beach, Saco, Maine
Contacting the Transformation Team for Racial Justice
Third Tuesday of every month from 7 - 8:30 pm
Coming Up at ASCenter
Find out more about these listings.

Buddha's Belly ~ The Buddhist Book Discussion and Arlington Street Zen Center

Tuesday, May 26th ~ 6:00 pm, Hunnewell Chapel
Kundalini Yoga Class
Every Wednesday ~ 6:00 pm, Clarke Room
New Member Class
Wednesday, May 20th ~ Spiritual Journey, 6:00 pm, Perkins Room
Sunday, May 31st ~ Meet ASC, 12:30 pm, Hunnewell Chapel
Social Action
Friday Night Supper Program Needs Your Help!
Friday, June 5th ~ 5:00 pm, Kitchen
A Note From Parish Concerns

Just Coffee!

Children's Religious Education (CRE)
CRE This Sunday
This Memorial Day Sunday, children and youth will be discussing memory. Check out CRE to learn more.
Children's Religious Education Wants You!
Would you enjoy assisting behind the scenes, sharing a story or your spiritual practice, going on a field trip, leading a sex ed class, holding babies, building with legos, or digging in the dirt! If the answer is yes, please contact Laura or Erica for more information!
CRE Is on Facebook!
Check out the CRE Facebook page to see what we're up to!
ASC's Children's Religious Education Blog
Check out the CRE blog to see what's coming up and what we've been doing lately.
View ASC's Children's Religious Education Calendar
Check out the CRE calendar to see what's coming up!
Music@ASC
For more information about the following listings, please visit Music@ASC.
Marywood Chamber Singers
Sunday, May 24th ~ 11:00 am, Sanctuary
Join the Arlington Street Choir !
Every Thursday ~ 7:00 pm, Clarke Room
Experience the spiritual practice of communal singing! Take just a couple of hours out of your week to create something beautiful, make friends, and add more music to your life! Musicians and non-musicians are welcome—we are a mix of professionals and amateurs.
Unitarian Universalism
If you are new to Unitarian Universalism,
"Voices of a Liberal Faith — Unitarian Universalists"
is a great introduction. Click here to watch
this ten minute video!
Special Considerations for Special Needs
The Arlington Street public transit station re-opened in June 2009 and now provides handicapped access from the transit station to street level via elevators and/or a ramp. A separate part of the MBTA project created a wheelchair ramp leading from street level on Boylston Street to the church office door.
Handicapped access to the Sanctuary on Arlington Street is provided by a ramp on Arlington Street which leads to an entrance to the Sanctuary.
During worship services, and other special events, FM amplification headsets can be provided upon request. Braille hymnals are also available for Sunday services, as well as a large print version of the hymnal and each week's order of service. Please ask an usher for assistance.
Arlington Street Church has a wheelchair accessible restroom immediately adjacent to the Sanctuary.