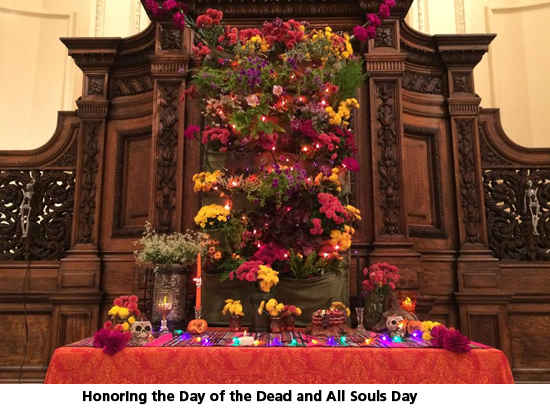 Featured

Don't Forget - Change your Clocks - Fall Back!
Don't forget to turn your clocks back an hour on Saturday night!
The Ramp is Coming!
Site Tour Sunday ~ 12:00 Noon ~ Boylston St. Side Yard
The ramp on the alley side of the church has outlived its legal lifetime. A permanent ramp to make the sanctuary accessible from the Boylston Street side will be built ... and soon! Find out more.
Fair Trade Holiday Sale!
Sundays, November 2, and December 14, 12:00 Noon - 2:00 pm ~ Parish Hall

Just in time for holiday entertaining and gift-giving, our friends from CREA (Center for Reflection, Education, and Action) will be selling many products from El Salvador, Guatemala, Haiti, the Congo, Palestine, and Uganda. Read more.

New Member Class

Sunday, Meet ASC ~ 12:30 pm, Hunnewell Chapel
All interested newcomers are warmly invited to our next two-session new member class. Rev. Kim joins us for the first session, where we share stories about our spiritual journeys and ask our burning questions. This class is a wonderful opportunity to deepen your relationship and knowledge of Arlington Street, and to discern whether you are ready to join. In our second session, we learn a little of Arlington Street's history, polity, and practices; and meet some of our illustrious leadership and staff. Please sign up at the Welcome Table in the parish hall after the service. All are welcome!
Arlington Street Circle of Caring

First meeting: Sunday, 12:30 pm ~ Frothingham Library
Are you battling illness, caring for someone who is ill, or in the process of losing someone you love? Or have you already lost them, and are you trying to cope with the heartbreak and anger that accompany loss and grief? Find out more.
Coffee Hour and Lunch

Sunday ~ Immediately following worship, Parish Hall
Let's all gather downstairs for coffee, soup, sandwiches, and community! If you're visiting Arlington Street Church, or would like information about Unitarian Universalism, please visit the Welcome Table.
Announcements
Find out more about these listings.

Covenant Renewal ~ Have You Pledged Yet?

Central Reform Temple's 10th Anniversary: A Special Invitation!
Friday, November 7th, 6:30​ pm, 15 Newbury Street ​
Coro Allegro presents "American Visions"
Sunday, November 9th, 2014, 3:00 pm – Jordan Hall, Boston​
From Words to Wings: Stories from Ecuador
Tuesday, Nov 11th, 5:45 pm ~ Perkins Room, Refreshments will be served
Buddha's Belly ~ The Buddhist Book Discussion and Arlington Street Zen Center
Tuesday, November 11th ~ 6:00 pm, Hunnewell Chapel
Arlington Street Church Corporation Meeting
Sunday, November 16th ~ 12:30 PM, Hunnewell Chapel
The Sanctuary Boston Worship Service
Wednesday, November 19th ~ 6:00 pm, Hunnewell Chapel
Want To Showcase Your Crafts at the Holiday Bazaar?

Sundays, December 7th, 14th, 21st ~ 10:30 -10:45 am & 12-1:00 pm, Parish Hall
Coming Up at ASCenter
Find out more about these listings.

Your Thanksgiving Pie Order Provides Hot Meals

Sunday ~ 12:00 Noon, Parish Hall
Do You Know the Names of the People Sitting Around You?

Sunday, November 2nd ~ 12 Noon, Parish Hall
Kundalini Yoga Class
Every Wednesday ~ 6:00 pm, Hunnewell Chapel
Social Action
Making a Difference for Immigrant Children and Families

Please bring food on Sundays November 9th, 16th, and 23rd. Click for food items needed.
Louis D. Brown Peace Institute (PI) Presentation
Sunday, November 9th ~ 9:30 am, Parish Hall
Prayer Vigil for Immigrant Detainees
Sunday, November 9th ~ 2:00 pm, 20 Bradston Street, Boston
Children's Religious Education (CRE)
CRE This Sunday
Sunday, CRE is meeting in our grade based groups. Check out CRE to learn more.
Children's Religious Education Wants You!
Would you enjoy assisting behind the scenes, sharing a story or your spiritual practice, going on a field trip, leading a sex ed class, holding babies, building with legos, or digging in the dirt! If the answer is yes, please contact Laura or Erica for more information!
CRE Is on Facebook!
Check out the CRE Facebook page to see what we're up to!
ASC's Children's Religious Education Blog
Check out the CRE blog to see what's coming up and what we've been doing lately.
View ASC's Children's Religious Education Calendar
Check out the CRE calendar to see what's coming up!
Music@ASC
For more information about the following listings, please visit Music@ASC.
Coro Allegro presents "American Visions"
Sunday, November 9th, 2014, 3:00 pm – Jordan Hall, Boston​
Join the Arlington Street Choir this Fall!
Every Thursday ~ 7:00 pm, Clarke Room
Unitarian Universalism
If you are new to Unitarian Universalism,
"Voices of a Liberal Faith — Unitarian Universalists"
is a great introduction. Click here to watch
this ten minute video!
Special Considerations for Special Needs
The Arlington Street public transit station re-opened in June 2009 and now provides handicapped access from the transit station to street level via elevators and/or a ramp. A separate part of the MBTA project created a wheelchair ramp leading from street level on Boylston Street to the church office door.
Handicapped access to the Sanctuary on Arlington Street is provided by a ramp on Arlington Street which leads to an entrance to the Sanctuary.
During worship services, and other special events, FM amplification headsets can be provided upon request. Braille hymnals are also available for Sunday services, as well as a large print version of the hymnal and each week's order of service. Please ask an usher for assistance.
Arlington Street Church has a wheelchair accessible restroom immediately adjacent to the Sanctuary.