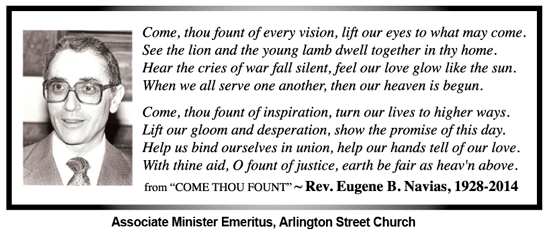 Featured

Speaking this Sunday, August 31st at 11:00 AM

Loving Labor ................... Mary Marcel
Dwelling between nature and grace, labor is the most transformative power on earth. We will look at labors of necessity, labors of choice, the need to be productive, and the need for rest, through the stories of the quilters of Gee's Bend, Alabama; a story of my family; and the meanings of Labor Day.

Mary Marcel was born in western PA on a small farm. She completed her BA in Slavic Languages and MA in Rhetoric and Communication Studies at the University of Virginia. She earned her doctorate in Rhetoric at the University of California at Berkeley, where she helped to unionize teaching assistants, and start a department of Multicultural Bisexual, Lesbian, Gay and Transgender Studies. Mary has been an Arlington Street member since 1994, and is now on the Prudential Committee. She teaches intercultural, persuasive, and managerial communication at Bentley University in Waltham, and is currently working on a book analyzing newspaper coverage of the priest sex crisis. Her essay on RuPaul's Drag Race will be available January 2015.Find out more.
Lunch Hour

Immediately following the service in the Parish Hall
Let's all gather downstairs for cool beverages, a light lunch, yummy desserts, and community!
Announcements
Find out more about these listings.

Homecoming Sunday

Sunday, September 7th ~ 11:00 am, Sanctuary
Children's Religious Education Wants You!

Would you enjoy assisting behind the scenes, sharing a story or your spiritual practice, going on a field trip, leading a sex ed class, holding babies, building with legos, or digging in the dirt!
Covenant Renewal ~ Have You Pledged Yet?

Coming Up at ASCenter
Find out more about these listings.

Worship Committee Meeting
Tuesday, September 2nd ~ 6:00 pm, Perkins Room
Kundalini Yoga Class
Wednesday, September 3rd ~ 6:00 pm, Hunnewell Chapel
CRE Volunteer Training
Wednesday, September 3rd ~ 6:30–8:30 pm, Perkins Room
Buddha's Belly ~ The Buddhist Book Discussion and Arlington Street Zen Center
Tuesday, September 9th ~ 6:00 pm, Hunnewell Chapel
A Spiritual Journey Through Alzheimer's Disease
Book Reading & Signing with Rev. Dr. Jade Angelica
Sunday, October 19th ~ 12:30 pm, Hunnewell Chapel
Social Action
Join the Social Action Committee in the Fall

Join the committee and bring a social action topic that concerns you.

Adopt An Inmate

Through the Partakers Program, over a period of six years, members of the Social Action team visited someone who was incarcerated.

Free Multiculturalism / Anti-Racism Workshop Series This Fall

Wednesdays, October 1st–November 19th ~ 6:30-8:30 pm, Perkins Room

Children's Religious Education (CRE)
Childcare During Summer Worship Services
The formal CRE program begins again on Sunday, September 7th. This summer, a couple of Arlington Street youth and adult volunteers will be here to care for elementary-aged children during the service. Check out CRE to learn more.
CRE Volunteer Training
Wednesday, September 3rd ~ 6:30–8:30 pm, Perkins Room
CRE Is on Facebook!
Check out the CRE Facebook page to see what we're up to!
ASC's Children's Religious Education Blog
Check out the CRE blog to see what's coming up and what we've been doing lately.
View ASC's Children's Religious Education Calendar
Check out the CRE calendar to see what's coming up!
Music@ASC
For more information about the following listings, please visit Music@ASC.
Join the Arlington Street Choir this Fall!
Thursdays, beginning September 4th ~ 7:00 pm, Clarke Room
Unitarian Universalism
If you are new to Unitarian Universalism,
"Voices of a Liberal Faith — Unitarian Universalists"
is a great introduction. Click here to watch
this ten minute video!
Special Considerations for Special Needs
The Arlington Street public transit station re-opened in June 2009 and now provides handicapped access from the transit station to street level via elevators and/or a ramp. A separate part of the MBTA project created a wheelchair ramp leading from street level on Boylston Street to the church office door.
Handicapped access to the Sanctuary on Arlington Street is provided by a ramp on Arlington Street which leads to an entrance to the Sanctuary.
During worship services, and other special events, FM amplification headsets can be provided upon request. Braille hymnals are also available for Sunday services, as well as a large print version of the hymnal and each week's order of service. Please ask an usher for assistance.
Arlington Street Church has a wheelchair accessible restroom immediately adjacent to the Sanctuary.