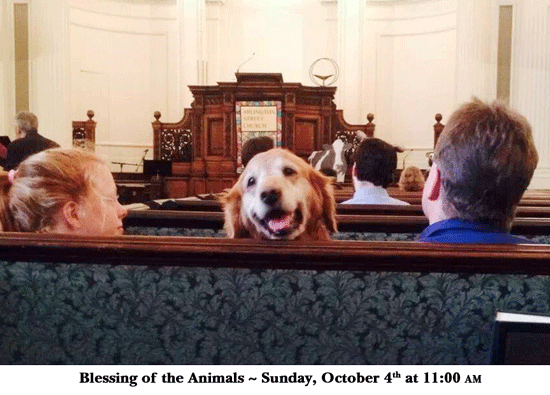 Featured
Blessing of the Animals
Sunday ~ 11:00 am, Sanctuary
Each year on a Sunday near the Feast Day of St. Francis, we celebrate the animal companions in our lives by welcoming them (crated, on a leash, in a bowl, in a photo) to be blessed. Welcome to this happy, hilarious, and love-filled worship service!
Coffee Hour and Lunch
Sunday ~ Immediately following worship, Parish Hall
Let's all gather downstairs for coffee, soup, sandwiches, and community! For Blessing of the Animals, Jon Ellertson is featuring a vegan feast! If you're visiting Arlington Street Church, or would like information about Unitarian Universalism, please visit the Welcome Table.

We welcome additional volunteers to help with food preparation and, especially, with clean-up. To volunteer, and for more information about joining our team, please stop by the kitchen today, or contact Jon Ellertson.
Rice Sticks and Tea: Looking for Volunteers
Saturday, October 10th ~ 7:45 am - 9:30 am, Parish Hall
Did you know that Cantonese is the primary language spoken in the Parish Hall on every second Saturday ​morning ​of the year?​Rice Sticks and Tea​, which distributes food to over 100 Chinese families,​ is a non-profit organization run by a board of Chinese American professionals (lawyers, engineers, entrepreneurs, etc​.).​
Volunteers are needed to bag and distribute the food, and to help clean up. It is a very rewarding experience! If you are interested, please come help on Saturday, October 10th. If you have any questions, please contact socialaction@ASCBoston.org.
The Campaign to Restore the Tiffany Stained Glass Windows

Read all about it and find out how you can participate!

Announcements
Find out more about these listings.
Maine Walk for Peace

October 9-24th ~ Maine
HONK!

Sunday, Oct. 11th ~ 11a m, Herbert and Day Streets in Davis Square
Buddha's Belly ~ The Buddhist Book Discussion and Arlington Street Zen Center
Tuesday, October 13th ~ 6:30 pm, Hunnewell Chapel
The Wednesdays: Flannery O'Connor
Wednesdays, October 14th and 21st ~ 6:00 pm, Frothingham Library
The Mainstreaming of Mindfulness in America: The Promise and the Perils with John Kabat-Zinn
Friday, October 16th ~ 7:00 pm-9:00 pm, Sanctuary General Admission: $25 / Benefactor: $30
Day of Mindfulness Practice and Dialogue with John Kabat-Zinn
Saturday, October 17th ~ 1:00 pm-4:00 pm, Lesley University's Washburn Hall, 10 Phillips Place, Cambridge, MA General Admission: $125 / Benefactor: $175
Arlington Street Circle of Caring
Sunday, October 25th ~ 12:30 pm, Frothingham Library

Arlington Street Samhain Celebration

Saturday, October 31st ~ 8:00 pm, Hunnewell Chapel
Jay Michaelson Book Release!
Sunday, November 8th ~ 12:30 pm, Hunnewell Chapel
It's Covenant Renewal Season! Have You Pledged Yet?
Coming Up at ASCenter
Find out more about these listings.

Meditation in Everyday Life
Mondays, September 28-October 26th, 6-8pm, Hunnewell Chapel
Kundalini Yoga Class
Every Wednesday ~ 6:00 pm, Clarke Room
Social Action
Rice Sticks and Tea: Looking for Volunteers
Saturday, October 10th ~ 7:45 am - 9:30 am, Parish Hall
Animal Issues Group

Just Coffee!

Children's Religious Education (CRE)
CRE on Sundays
Happy Animal Blessing Sunday! After the second hymn, children, youth, family members, and their animals are gathering in the Perkins Room. Check out CRE to learn more.
Children's Religious Education Wants You!
Would you enjoy assisting behind the scenes, sharing a story or your spiritual practice, going on a field trip, leading a sex ed class, holding babies, building with legos, or digging in the dirt! If the answer is yes, please contact Laura or Erica for more information!
CRE Is on Facebook!
Check out the CRE Facebook page to see what we're up to!
ASC's Children's Religious Education Blog
Check out the CRE blog to see what's coming up and what we've been doing lately.
View ASC's Children's Religious Education Calendar
Check out the CRE calendar to see what's coming up!
Music@ASC
For more information about the following listings, please visit Music@ASC.
Join the Arlington Street Choir !
Every Thursday ~ 7:00 pm, Clarke Room
Experience the spiritual practice of communal singing! Take just a couple of hours out of your week to create something beautiful, make friends, and add more music to your life! Musicians and non-musicians are welcome—we are a mix of professionals and amateurs.
Unitarian Universalism
If you are new to Unitarian Universalism,
"Voices of a Liberal Faith — Unitarian Universalists"
is a great introduction. Click here to watch
this ten minute video!
Special Considerations for Special Needs
The Arlington Street public transit station re-opened in June 2009 and now provides handicapped access from the transit station to street level via elevators and/or a ramp. A separate part of the MBTA project created a wheelchair ramp leading from street level on Boylston Street to the church office door.
Handicapped access to the Sanctuary on Arlington Street is provided by a ramp on Arlington Street which leads to an entrance to the Sanctuary.
During worship services, and other special events, FM amplification headsets can be provided upon request. Braille hymnals are also available for Sunday services, as well as a large print version of the hymnal and each week's order of service. Please ask an usher for assistance.
Arlington Street Church has a wheelchair accessible restroom immediately adjacent to the Sanctuary.