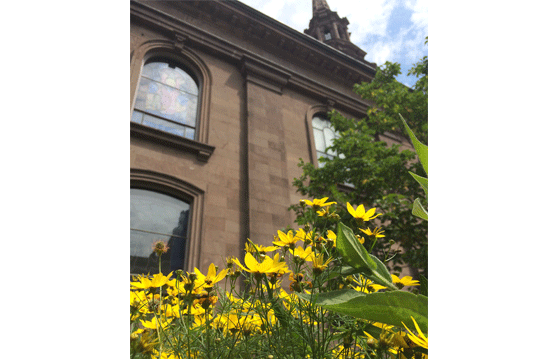 Featured
Sunday's Service with Tina Rose

Cycling as a Spiritual Practice

Do you own or have you ever owned a bike? Learn how cycling can be a mindful activity, one that can bring balance to your everyday life and develop into a spiritual practice.

Tina Rose was a regular guest at Arlington Street for three years before she joined the church in 2013. Since then she's been involved in a number of committees, enjoys washing dishes on Sundays, and currently serves as Chair of the Prudential Committee, Arlington Street's Board of Directors.
Car Donations Made Easy!

Start your summer off on the right track by donating a vehicle. If you are finally splurging on that new vehicle, donate your trade-in to Arlington Street. Just click the link below or call 855-500-RIDE (7433).www.cardonatingiseasy.org/donate/?CharityID=4038

The Campaign to Restore the Tiffany Stained Glass Windows

Read all about it and find out how you can participate!

Announcements
Find out more about these listings.
Arlington Street Summer Worship

Come keep the faith!
Dining Out with Arlington Street Church Neighbors
Coming Up at ASCenter
Find out more about these listings.

Kundalini Yoga Class
Every Wednesday ~ 6:00 pm, Clarke Room
Social Action
Ask the Transformation Team for Racial Justice

Sunday, August 7th ~ 12:00 pm - 1:00 pm, Hunnewell Chapel

Uncomfortable Conversations

Sunday, August 21st ~ 12:30 pm, Hunnewell Chapel

Arlington Street Church Visits the Islamic Center of Boston!
Special Tour for Arlington Street Members and Friends
Sunday, September 18th ~ 2:00 pm, The Islamic Center of Boston
Children's Religious Education (CRE)
CRE on Sundays
Summer childcare begins. Thanks in advance to Allie Dagg, an Arlington Street youth, who will be providing childcare again this summer. We are thrilled to have her back! Check out CRE to learn more.
Children's Religious Education Summer Crew!
Would UU like to do some painting and organizing this summer while the CRE program is on summer break? If so, please contact Laura Evonne at les@ascboston.org.
Children's Religious Education Wants You!
Would you enjoy assisting behind the scenes, sharing a story or your spiritual practice, going on a field trip, leading a sex ed class, holding babies, building with legos, or digging in the dirt! If the answer is yes, please contact Laura or Erica for more information!
CRE Is on Facebook!
Check out the CRE Facebook page to see what we're up to!
ASC's Children's Religious Education Blog
Check out the CRE blog to see what's coming up and what we've been doing lately.
View ASC's Children's Religious Education Calendar
Check out the CRE calendar to see what's coming up!
Music@ASC
For more information about the following listings, please visit Music@ASC.
Join the Arlington Street Choir!
Every Thursday, starting September 8th ~ 7:00 pm, Clarke Room
Experience the spiritual practice of communal singing! Take just a couple of hours out of your week to create something beautiful, make friends, and add more music to your life! Musicians and non-musicians are welcome—we are a mix of professionals and amateurs.
Unitarian Universalism
If you are new to Unitarian Universalism,
"Voices of a Liberal Faith — Unitarian Universalists"
is a great introduction. Click here to watch
this ten minute video!
Special Considerations for Special Needs
The Arlington Street public transit station re-opened in June 2009 and now provides handicapped access from the transit station to street level via elevators and/or a ramp. A separate part of the MBTA project created a wheelchair ramp leading from street level on Boylston Street to the church office door.
Handicapped access to the Sanctuary on Arlington Street is provided by a ramp on Arlington Street which leads to an entrance to the Sanctuary.
During worship services, and other special events, FM amplification headsets can be provided upon request. Braille hymnals are also available for Sunday services, as well as a large print version of the hymnal and each week's order of service. Please ask an usher for assistance.
Arlington Street Church has a wheelchair accessible restroom immediately adjacent to the Sanctuary.