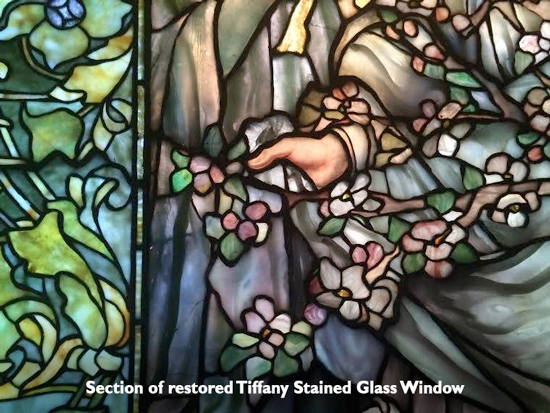 Featured
El Día de los Muertos
Sunday ~ 11:00 am, Sanctuary
Join in as we celebrate the lives of beloved family and friends who have gone before us, calling out their names to affirm their continuing presence in our lives. You are welcome to bring photographs and other mementos to place on the altar. Children of all ages are invited to wear costumes and take part in the costume parade!
Special Guest Mike Ward Releases His New Book from the High Pulpit!

Sunday ~ 12:30 pm, Hunnewell Chapel
Rev. Kim is thrilled to be joined in the pulpit by her longtime friend, Mike Ward, who will read from his memoir - officially to be published the next day! In The Sea is Quiet Tonight, Mike returns to the early years of the AIDS epidemic and chronicles in candid detail his partner Mark's decline and eventual death. By looking back on these devastating events, the author not only honors a generation lost to the illness but also opens a vital window onto the past when HIV/AIDS was a death sentence. Following the service, join Mike for further reading, discussion, and

Arlington Street Circle of Caring
Sundays, Oct. 30th ~ 12:45 pm, and Nov. 6th, 20th, Dec. 4th, and 18th ~ 12:30 pm, Carol Smith Room
Are you battling illness, caring for someone who is ill, struggling with isolation or in the process of losing someone you love? Or have you already lost someone, and are you trying to cope with the heartbreak and anger that accompany loss and grief? If you are currently struggling, or have experienced this or any other type of life crisis and would like to share how you made it through, then please join the Caring Circle. Find out more.

Creating Art for World AIDS Day
Sunday ~ 1:00 pm, Perkins Room
Please join artist in residence Laura Evonne Steinman to create a 4' x 4' panel. In observance of World AIDS Day on December 1st, it will be added to a mural that will line the walls of the Cyclorama at the Boston Center for the Arts. Our panel will include bearing witness, giving testimony, and include images of remembrance, love, loss, longing, and survival.
ADAPT's Fall Action in Boston
Sunday ~ 2:30 pm, Kick Off Rally on Government Center Plaza
Join ADAPT members from across the country as we bring the fight for disability rights to the cradle of liberty. ADAPT will be hosting actions Monday through Wednesday this week. Please contact Rhoda Gibson at massadapt1@gmail.com for more information.
Diwali Celebration
Sunday ~ 4:00 pm, Sanctuary, sponsored by the South Asian Arts and Cultural Council
Join Rev. Kim for this interfaith multicultural celebration honoring the universal message of Diwali. Through our diversity, we find strength in fighting injustice and eliminating intolerance. Through our cultural engagement, we see our commonality as a global family of love. All are welcome!
The Campaign to Restore the Tiffany Stained Glass Windows

Read all about it and find out how you can participate!

Announcements
Find out more about these listings.
Inside Out Concert
Sunday, November 6th ~ 3:00 pm, Hunnewell Chapel
Shambhala: Meditation in Everyday Life

Mondays, through November 21st ~ 6:30 pm, Hunnewell Chapel

New Member Class

Monday, November 7th ~ Spiritual Journey ~ 6:00 pm, Perkins Room
Sunday, November 13th ~ Meet ASC ~ 12:30 pm, Clarke Room
Sunday, Nov. 20th ~ Breakfast/Joining ~ 9:30 am, Hunnewell Chapel

Arlington Street's Literary Salon, The Wednesdays: Shakespeare

Wednesdays, November 9th ~ 6:00 pm, Frothingham Library

Buddha's Belly ~ The Buddhist Book Discussion and Arlington Street Zen Center

Tuesday, November 22nd ~ 6:00 pm, Hunnewell Chapel

Pru In Review
Have You Made Your Pledge Yet?

Coming Up at ASCenter
Find out more about these listings.

Kundalini Yoga Class
Every Wednesday ~ 6:00 pm, Hunnewell Chapel
UU Mass Action's 3rd Annual Story Slam

Saturday, Nov. 5th ~ 7:00 pm, First Parish UU Arlington, 630 Massachusetts Ave, Arlington

Social Action
Uncomfortable Conversations

Sundays, October 30th & November 13th ~ 12:30 pm, Carol Smith Room

ADAPT's Fall Action in Boston

Sunday, October 30th ~ 2:30 pm, Kick Off Rally on Government Center Plaza
Building Bridges with Our Muslim Neighbors

Sunday, November 6th ~ 12:45 pm, Hunnewell Chapel

Children's Religious Education (CRE)
CRE on Sunday
CRE is gathering this morning all together in the Chapel to share joys and sorrows, to talk about death and dying with Rev. Vera O'Brien, Chaplain and one of our affiliated community ministers.
We also have Sophy, the amazing facepainter, to help us get ready for Halloween! Check out CRE to learn more.
Children's Religious Education Registration is Open!
Hey CRE families, it's the start of the school year, and that means it's time for CRE REGISTRATION! Click to read more.
Children's Religious Education Wants You!
Would you enjoy assisting behind the scenes, sharing a story or your spiritual practice, going on a field trip, leading a sex ed class, holding babies, building with legos, or digging in the dirt! If the answer is yes, please contact Laura or Erica for more information!
CRE Is on Facebook!
Check out the CRE Facebook page to see what we're up to!
ASC's Children's Religious Education Blog and Newsletter
Check out the CRE blog and newsletter to see what's coming up and what we've been doing lately. http://ascreboston.blogspot.com/2015/09/so-many-beginnings.html
View ASC's Children's Religious Education Calendar
Check out the CRE calendar to see what's coming up!
Music@ASC
For more information about the following listings, please visit Music@ASC.
Inside Out Concert
Sunday, November 6th ~ 3:00 pm, Hunnewell Chapel
Join the Arlington Street Choir!
Every Thursday ~ 7:00 pm, Clarke Room
Experience the spiritual practice of communal singing! Take just a couple of hours out of your week to create something beautiful, make friends, and add more music to your life! Musicians and non-musicians are welcome—we are a mix of professionals and amateurs.
Unitarian Universalism
If you are new to Unitarian Universalism,
"Voices of a Liberal Faith — Unitarian Universalists"
is a great introduction. Click here to watch
this ten minute video!
Special Considerations for Special Needs
The Arlington Street public transit station re-opened in June 2009 and now provides handicapped access from the transit station to street level via elevators and/or a ramp. A separate part of the MBTA project created a wheelchair ramp leading from street level on Boylston Street to the church office door.
Handicapped access to the Sanctuary on Arlington Street is provided by a ramp on Arlington Street which leads to an entrance to the Sanctuary.
During worship services, and other special events, FM amplification headsets can be provided upon request. Braille hymnals are also available for Sunday services, as well as a large print version of the hymnal and each week's order of service. Please ask an usher for assistance.
Arlington Street Church has a wheelchair accessible restroom immediately adjacent to the Sanctuary.