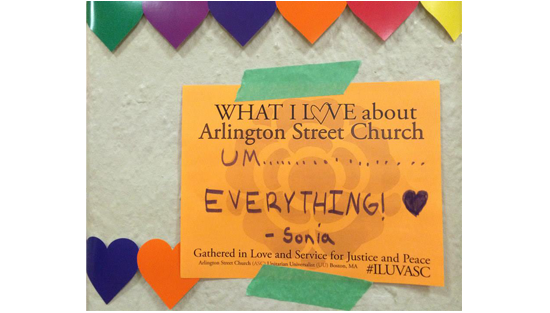 Featured

Share the Plate with Only A Child

Sunday, April 13th ~ 11:00 am, Sanctuary
We continue our new spiritual practice of generosity at Arlington Street. For April, Share the Plate donations will go to Only A Child. Find out more.
What I Love About Arlington Street ~ Photo Op

Sunday, April 13th ~ Noon, Parish Hall Stage
As part of our Covenant Renewal activities this spring, please express what it is you love most about Arlington Street Church (ASC). Our own Christa Lamb will take photos of congregants as they hold a sign showing the one thing they love most about their Arlington Street experience. Find out more about this.
Building the World We Dream—Lunch Conversation!

Sunday, April 13th ~ Noon, Parish Hall Stage
The "Building the World We Dream" team invites you to eat lunch together in the Parish Hall after service. This will be an informal setting to talk about the issues of racism and multiculturalism and the charter for a Transformation Team at Arlington Street. Please come say hello and share your thoughts, or send an email to transformation@ascboston.org.
Arlington Street Humanists

Sunday, April 13th ~ 1:00 pm, Stage Right Room
The Arlington Street Humanists will be continue discussing a good definition of Religious Humanism and how it can compliment the Unitarian Universalism experience. We'll also continuing talking about the new TV program "Cosmos," being presented by the American Humanist Association's 2009 Isaac Asimov Award Winner, Dr. Neil deGrasse Tyson, and how it is being received. All are welcome!
Albie Sachs, Hero of Anti-Apartheid & Equal Marriage

Sunday, April 13th ~ 3:30 pm, Temple Karem Shalom, 659 Elm St., Concord
Justice Albie Sachs, appointed by Nelson Mandela to the Constitutional Court of South Africa, is a great hero of the Anti-Apartheid movement and author of the Court's decision in Minister of Home Affairs v. Fourie, in which South Africa's statute defining marriage to be between one man and one woman was declared a violation of the Constitution's mandate for equality. He will be speaking about freedom! All are welcome at no charge!
Announcements
Find out more about these listings.

The Boston National Poetry Month Festival

Thursday-Sunday, April 10th-13th ~ Old South Church & Boston Public Library, Copley Square

Only a Child Turns 20!
Saturday, April 12th ~ 7:00 pm, 215 Waverly Oaks Road, Waltham MA
Next Buddha's Belly Book
We are beginning a new book: The Shambhala Principle: Discovering Humanity's Hidden Treasure by Sakyong Mipham. Please read chapters 1-4 for our next meeting on Tuesday, April 22nd.
Requests for Jubilee Support

Our Jubilee initiative supports Arlington Street Church's "work in the world."
Connections Groups Are Still Open

Connections groups meet twice a month for small group facilitated sharing and reflection.

New Member Class

Sunday, May 4th, Meet ASC ~ 12:30 pm, Clarke Room
Wednesday, May 7th, Spiritual Journeys ~ 6:00 pm, Perkins Room

Coming Up at ASCenter
Find out more about these listings.

Veterans' Poetry Coffee House: Midnight Voices
Tuesday, April 15th ~ 7:00–10:00 pm, Clarke Room
Claiming Our Faith!
Wednesday, April 16th ~ 6:00–7:30 pm, Perkins Room
Kundalini Yoga Class
Wednesday, April 16th ~ 6:00 pm, Hunnewell Chapel
Women's Spirituality Group
Saturday, April 19th ~ 10:00–Noon, Perkins Room
Connections Facilitators Training & Information Session
Saturday, April 26th ~ 1:00 pm, Perkins Room
Spiritual Passions Higher & Friendly Power: William James and Addiction
Sunday, May 4th ~ 12:30 pm, Hunnewell Chapel
Social Action
Boston Strong in Everyday Life

Saturday, April 12th ~ 7:00-9:00 pm, Sanctuary

Jobs Not Jails: Rally to End Mass Incarceration!
Saturday, April 26th ~ 1:00 pm, Boston Common
Problems and Promises of Unearned Privilege
Sunday, April 27th ~ 12:30–2:00 pm, Hunnewell Chapel
Help Keep Immigrant Families Together

Sunday, May 4th ~ 2:00 pm, 20 Bradston Street, Boston

Mother's Day Walk for Peace

Sunday, May 11th ~ 7:00 am, Assemble at Town Field in Dorchester

Children's Religious Education (CRE)
This Week in CRE
Happy Passover and Happy Palm Sunday! Sunday, we are meeting in our aged-based groups exploring birth, hope, and tradition.Check out CRE to learn more.
CRE Is on Facebook!
Check out the CRE Facebook page to see what we're up to!
ASC's Children's Religious Education Blog
Check out the CRE blog to see what's coming up and what we've been doing lately.
View ASC's Children's Religious Education Calendar
Check out the CRE calendar to see what's coming up!
Music@ASC
For more information about the following listings, please visit Music@ASC.
Love of singing?
Do you love to sing? Would you consider sharing your voice as a gift of service to this community? Do you want to take just a couple of hours out of your week to create something beautiful? The Arlington Street Church Choir awaits you! Please visit Adult Choir.
Unitarian Universalism
If you are new to Unitarian Universalism,
"Voices of a Liberal Faith — Unitarian Universalists"
is a great introduction. Click here to watch
this ten minute video!
Special Considerations for Special Needs
The Arlington Street public transit station re-opened in June 2009 and now provides handicapped access from the transit station to street level via elevators and/or a ramp. A separate part of the MBTA project created a wheelchair ramp leading from street level on Boylston Street to the church office door.
Handicapped access to the Sanctuary on Arlington Street is provided by a ramp on Arlington Street which leads to an entrance to the Sanctuary.
During worship services, and other special events, FM amplification headsets can be provided upon request. Braille hymnals are also available for Sunday services, as well as a large print version of the hymnal and each week's order of service. Please ask an usher for assistance.
Arlington Street Church has a wheelchair accessible restroom immediately adjacent to the Sanctuary.