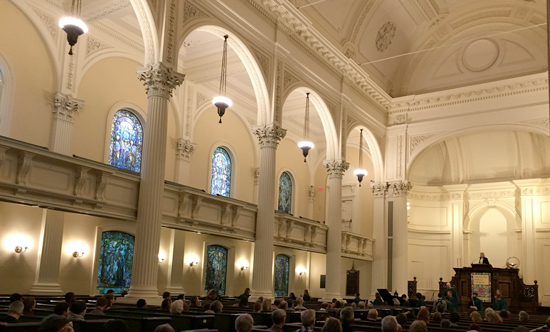 Tiffany Windows Tours

We are proud to share the resplendent beauty and history of our Tiffany stained glass windows with you. Open for tours Monday - Saturday 10 am - 3 pm.
This Saturday, October 21st
Fall Potluck & Game Night!

Saturday, October 21st ~ 5:30 pm, Parish Hall
Rev. Kim, Beth, Erica, and our fabulous host, Queen Cheryl, warmly invite you to an all-church potluck dinner and game night! Please feel free to bring a dish, a friend, and your favorite game! Bridge or Chutes and Ladders anyone?

This Sunday, October 22nd
Your Thanksgiving Pie Order Provides Hot Meals
Sunday ~ Noon, Parish Hall
Every Thanksgiving since 1993, 150 of Boston's top chefs donate more than 20,000 freshly baked pies to support Community Servings. Every $30 pie sold enables Community Servings to provide a week of free, nutritious, home-delivered meals to 1,850 critically ill individuals and their families. 93% of this year's $800,000 goal will directly support the mission.
The Pie in the Sky bake sale is your chance to enjoy a wonderful, freshly-baked gourmet pie and celebrate the true spirit of Thanksgiving. Choose apple, pecan, pumpkin, or sweet potato! You can pick up your pies the day before Thanksgiving at over 100 different sites in the greater Boston area.
Order directly from Lisa Drapkin and Debbie Lewis in the Parish Hall today or next Sunday. All pie orders must be received by November 13th. If you do not want a pie, please consider making a donation!
Let's Decorate Our Altar
Sunday ~ 12:15 pm, Sanctuary
If you would like to help decorate the altar for next Sunday's observance of El Dia de los Muertos (Day of the Dead), please meet Rev. Kim in the sanctuary after worship today. All are welcome! No experience necessary!
Sunday's Share the Plate: Supporting Syrian Refugees

Founded in 2007, Karam Foundation is a nonprofit organization based in the United States serving those affected by the worst humanitarian crisis of our lifetime. Karam's mission is to instill hope, foster healing, and build a peaceful, prosperous future for Syria.
Today's Share the Plate collection will go to Karam's program that resettles refugees here. Their goal is to eliminate female teen marriage and child labor and to insure that Syrian refugee children have access to quality education and a safe home. Thank you for your generosity!
Coffee Hour and Lunch
Sunday ~ Immediately following worship, Parish Hall

Let's all gather downstairs for coffee, soup, sandwiches, and community! Please visit the Arlington Street Cares Table (on your right as you enter the Parish Hall) to sign cards for people who have shared candles of sorrow and joy with us.
We welcome additional volunteers to help with food preparation and, especially, with clean-up. To volunteer, and for more information about joining our team, please stop by the kitchen.
Announcements
Find out more about these listings.
Arlington Street's Literary Salon, The Wednesdays: Shakespeare

Wednesdays ~ 6:00 pm, Frothingham Library
N​ovember 1st​ ~ ​​Hamlet
November 15​th ~ Twelfth Night
November 29th ~ ​Troilus and Cressida
December 13​th ​~ All's Well That Ends Well​

Arlington Street Circle of Caring

Sundays, Nov. 5th, 9th, Dec. 3rd, and 17th ~ 12:30 pm, Carol Smith Room

Saturday, October 21st ~ 5:30 pm, Parish Hall

Arlington Street Church Corporation Meeting

Sunday, November 5th ~ 12:30 pm, Hunnewell Chapel

Intersectional Book Group

Monday, November 6th ~ 5:30 - 7:00 pm, Frothingham Library

Have You Remembered Arlington Street in Your Will?

Sunday, November 19th ~ ​1:30-3:30 pm, Private location TBA

Movie Night: Walk With Me
Monday, November 20th ~ 7:30 pm ~ Kendall Square Cinema
Coming Up at ASCenter
Find out more about these listings.

Arlington Street Church Visitor Tours - We Need Your Smiling Face!
Buddha's Belly ~ The Buddhist Book Discussion and Arlington Street Zen Center
Tuesday, October 24th ~ 6:00 pm, Hunnewell Chapel
New Member Class

Wednesday, October 25th, Spiritual Journey ~ 6:00 pm, Perkins Room
Sunday, October 29th, Meet ASC~ 12:30 pm, Carol Smith Room
Sunday, November 5th, New Member Breakfast/Joining ~ 9:30 am, Chapel

Kundalini Yoga Class
Every Wednesday ~ 6:00 pm, Hunnewell Chapel
Join the Investment Subcommittee
Thursday, October 23rd ~ 6:30 pm, Carol Smith Room
Pru in Review ~ September
Social Action
Car Donations Made Easy!

Hate Crimes Hotline
A Marriage Proposal
Children's Religious Education (CRE)
CRE on Sunday
On Sunday we are learning about El Dia de Los Muertos (Day of the Dead) and preparing for next week's intergenerational service. Check out CRE to learn more.
Music@ASC
For more information about the following listings, please visit Music@ASC.
Concerts by Boston Chamber Music Society

Saturdays, November 11th, and March 10th ~ 11:30 am, Sanctuary
Join the Arlington Street Choir!
Every Thursday, Starting September 7th ~ 7:00 pm, Clarke Room
Experience the spiritual practice of communal singing! Take just a couple of hours out of your week to create something beautiful, make friends, and add more music to your life! Musicians and non-musicians are welcome—we are a mix of professionals and amateurs.
Unitarian Universalism
If you are new to Unitarian Universalism,
"Voices of a Liberal Faith — Unitarian Universalists"
is a great introduction. Click here to watch
this ten minute video!
Special Considerations for Special Needs
The Arlington Street public transit station re-opened in June 2009 and now provides handicapped access from the transit station to street level via elevators and/or a ramp. A separate part of the MBTA project created a wheelchair ramp leading from street level on Boylston Street to the church office door.
Handicapped access to the Sanctuary on Arlington Street is provided by a ramp on Arlington Street which leads to an entrance to the Sanctuary.
During worship services, and other special events, FM amplification headsets can be provided upon request. Braille hymnals are also available for Sunday services, as well as a large print version of the hymnal and each week's order of service. Please ask an usher for assistance.
Arlington Street Church has a wheelchair accessible restroom immediately adjacent to the Sanctuary.