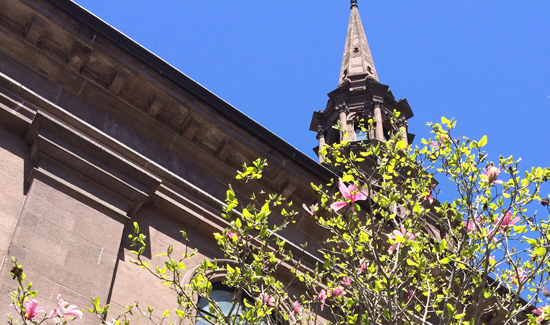 Featured
Covenant Renewal: #FiredUp4ASC

Sunday, May 7th ~ 11:00 am, Sanctuary

We are - every one of us! - the people of the Beloved Community at Arlington Street. Don't miss Covenant Renewal Sunday! Be here next week for our celebration of generosity as we make our pledges to support next year's church budget. Come hungry! A special thank you lunch will
follow the service!
This Sunday, April 30th
#UUWhiteSupremacyTeachIn
Sunday, April 30th ~ 11:00 am, Sanctuary
Our faith takes the urgent directive to build the beloved community very seriously. On Sunday morning, April 30th, over 530 Unitarian Universalist congregations (in all 50 states and on four continents!) will stage a teach-in on racism and white supremacy. The call to action for this service came from Black Lives of Unitarian Universalism (BLUU) to look critically within our faith communities for the ways racism festers, and to empower the congregation to commit to work toward a more just society in these difficult times. For more information, please see www.blacklivesuu.com/teachin/
Arlington Street Circle of Caring
Sundays, April 30th and May 21st~ 12:30 pm, Stage Right Room
Are you battling illness, caring for someone who is ill, struggling with isolation or in the process of losing someone you love? Or have you already lost someone, and are you trying to cope with the heartbreak and anger that accompany loss and grief? If you are currently struggling, or have experienced this or any other type of life crisis and would like to share how you made it through, then please join the Caring Circle. Maureen Peterson is an ASC member who has lost her parents and her best friend to cancer and her brother and close friends to AIDS. Lisa Kirk, who officially joined the ASC Community last year has lead grief and small support groups for other congregations and has lots of experience and insight to share with the group.
Their vision of the Circle of Caring is to create a safe space in which to share our stories, discuss what might help, and just be together in support, in healing, in peace and always in love.
A Long Strange Trip: Unitarian Universalist History
Sunday, April 30th ~ 1:00 pm, Hunnewell Chapel
Throughout 2017, Arlington Street historian, Holly Hendricks, will be screening all six episodes of Ron Cordes' documentary series tracing Unitarian Universalist history from early Christianity to the modern era. Today, we'll be watching and discussing the 20th century, including the part Arlington Street Church played in the struggle for civil rights.
Black Lives Matter Boston is Coming Back to ASC!

Sunday, April 30th ~ 3:00 pm, Sanctuary
Come learn about the struggle for racial equality in our city and country. The presenters will build on February's event; newbies and seasoned activists alike can learn how you can make a difference! Presentation and discussion from 3:00 - 5:00; a reception will follow. There will be ASL interpretation. Please let us know your other accessibility needs. Childcare is available (please let us know if you need it). Tickets are $20 (some $10 tickets are available for folks with limited ability to pay). Get your advance tickets to this important event now before we open it up to the public tomorrow. Visit https://tinyurl.com/BLMASC for tickets. Please email Eve Lauria through office@ASCBoston.org with questions.
Announcements
Find out more about these listings.
Buddha's Belly ~ The Buddhist Book Discussion and Arlington Street Zen Center

Tuesday, May 9th ~ 6:00 pm, Hunnewell Chapel

Arlington Street's Literary Salon, The Wednesdays: Shakespeare

Wednesday, May 10th ~ 6:00 pm, Frothingham Library

21st Annual Mother's Day Walk for Peace

Sunday, May 14th ~ 8:30 am, from Towne Field, Dorchester or
9:45 am (estimated) from Madison Park High School, Roxbury Crossing

Arlington Street Church Visitor Tours
Starts May 15th

Intersectional Book Discussion

Monday, May 15th ~ 6:00 pm, Frothingham Library

Coming Up at ASCenter
Find out more about these listings.

May Day People's School
Monday, May 1st ~ 7:00 am - 5:00 pm, Arlington Street Church
International Workers Day
Monday, May 1st ~ 5:00 pm, Boston Common Bandstand
Kundalini Yoga Class
Every Wednesday ~ 6:00 pm, Hunnewell Chapel
Join the Juice-alution!

Thursday, May 4th ~ 6:30 – 8:00 pm ~ Arlington Street Church Kitchen
Come to the Table Gala

Saturday, May 6th ~ 5:00 pm, Arlington Street Church

Pru in Review from April 25 meeting
Social Action
#UUWhiteSupremacyTeachIn
Sunday, April 30th ~ 11:00 am, Sanctuary

Black Lives Matter Boston is Coming Back to ASC!

Sunday, April 30th ~ 3:00 pm, Sanctuary

Immigrant Justice Task Force
Wednesday, May 3rd ~ 7:00 – 8:30 pm, Parish Hall
Hate Crimes Hotline
A Marriage Proposal
Children's Religious Education (CRE)
CRE on Sunday
The Children's Religious Education (CRE) program begins each Sunday in the sanctuary. Check out CRE to learn more.
Read the 4.30.2017 e-newsletter!
Children's Religious Education Wants You!
Would you enjoy assisting behind the scenes, sharing a story or your spiritual practice, going on a field trip, leading a sex ed class, holding babies, building with legos, or digging in the dirt! If the answer is yes, please contact Laura or Erica for more information!
CRE Is on Facebook!
Check out the CRE Facebook page to see what we're up to!
ASC's Children's Religious Education Blog and Newsletter
Check out the CRE blog and newsletter to see what's coming up and what we've been doing lately. http://ascreboston.blogspot.com/2015/09/so-many-beginnings.html
View ASC's Children's Religious Education Calendar
Check out the CRE calendar to see what's coming up!
Music@ASC
For more information about the following listings, please visit Music@ASC.
Boston Art Song Society Concert

Saturday, May 20th ~ 7:00 pm, Sanctuary
Coming Together: Art and Music

First Friday of the month ~ 6:00 - 8:00 pm, JP Licks, 150 Charles Street
Join the Arlington Street Choir!
Every Thursday ~ 7:00 pm, Clarke Room
Experience the spiritual practice of communal singing! Take just a couple of hours out of your week to create something beautiful, make friends, and add more music to your life! Musicians and non-musicians are welcome—we are a mix of professionals and amateurs.
Unitarian Universalism
If you are new to Unitarian Universalism,
"Voices of a Liberal Faith — Unitarian Universalists"
is a great introduction. Click here to watch
this ten minute video!
Special Considerations for Special Needs
The Arlington Street public transit station re-opened in June 2009 and now provides handicapped access from the transit station to street level via elevators and/or a ramp. A separate part of the MBTA project created a wheelchair ramp leading from street level on Boylston Street to the church office door.
Handicapped access to the Sanctuary on Arlington Street is provided by a ramp on Arlington Street which leads to an entrance to the Sanctuary.
During worship services, and other special events, FM amplification headsets can be provided upon request. Braille hymnals are also available for Sunday services, as well as a large print version of the hymnal and each week's order of service. Please ask an usher for assistance.
Arlington Street Church has a wheelchair accessible restroom immediately adjacent to the Sanctuary.