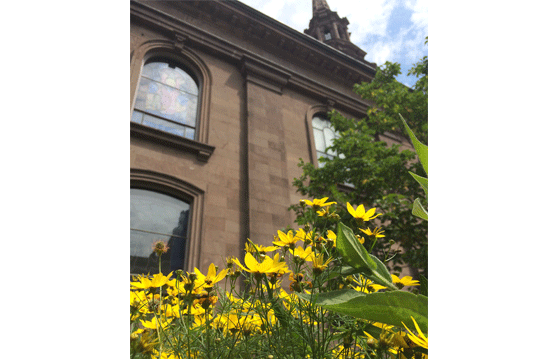 This Sunday, August 27th
Awesomely, Wondrously Made ~ Rev. Joanna Lubkin

What might our relationship with our bodies and each other be like if we start from the premise that we are each "awesomely and wondorously made?" (Psalm 139) Rev. Jo will invite us to reflect on awe, wonder, inherent worth, and the gifts we're here to give the world.

Rev. Joanna Lubkin is an Affiliated Community Minister here at Arlington Street Church and serves as the Unitarian Universalist Chaplain at Wellesley College. She studied at Andover Newton Theological School and Hebrew College Rabbinical School. Joanna sings in the Arlington Street Church choir and at The Sanctuary Boston.

Coffee Hour
Sunday ~ Immediately following worship, Parish Hall

Let's all gather downstairs for beverages, light lunch, & community!
Covenant Renewal
#FiredUp4ASC: Fired Up Towards our Covenant Renewal Goal!

Thanks to everyone who made Covenant Renewal Sunday the most successful celebration of pledging in the history of Arlington Street Church! If you have not yet made your pledge for the next church year (Fiscal Year 2018 begins July 1st), please do that now! We are more than 83% of the way to our goal and waiting for those few outstanding pledges. Please keep in mind Flame and Smokey's generous match of all new money—new and increased pledges! As you consider your pledge during Covenant Renewal, please reflect on what Arlington Street Church means in your life. If this community has been transformative for you, consider taking a leap in your level of investment in the church. Coordinating your values with where your money goes is a powerful spiritual practice! Thank you for your generosity!
Announcements
Find out more about these listings.
Buddha's Belly Summer Read
Tuesday, September 12th ~ 6:00 pm, Hunnewell Chapel
Intersectional Book Discussion

Monday, September 18th ~ 6:00 - 7:30 pm, Frothingham Library

Coming Up at ASCenter
Find out more about these listings.

Summertime at Arlington Street

Summer Worship

Sundays, June 18th - September 3rd ~ 11:00 am, Sanctuary
September 3rd ~ Art Nava

Arlington Street Church Visitor Tours - We Need Your Smiling Face!
Kundalini Yoga Class
Every Wednesday ~ 6:00 pm, Hunnewell Chapel
Pru in Review
Social Action
Car Donations Made Easy!

Hate Crimes Hotline
A Marriage Proposal
Children's Religious Education (CRE)
CRE on Sunday
There is no formal CRE during the summer. Next to the Hunnewell Chapel, there is a nursery for restless babies and their caregivers. This space offers a rocking chair, changing table with supplies, and a live audio feed of the service. Check out CRE to learn more.
Arlington Street is seeking a Summer Sunday Child Care Provider. Please click for more information.
Arlington Street is currently seeking a Program Assistant for CRE during the 2017-2018 church year. Please click for more information.
Children's Religious Education Wants You!
Would you enjoy assisting behind the scenes, sharing a story or your spiritual practice, going on a field trip, leading a sex ed class, holding babies, building with legos, or digging in the dirt! If the answer is yes, please contact office@ASCBoston.org for more information!
CRE Is on Facebook!
Check out the CRE Facebook page to see what we're up to!
ASC's Children's Religious Education Blog and Newsletter
Check out the CRE blog and newsletter to see what's coming up and what we've been doing lately. http://ascreboston.blogspot.com/2015/09/so-many-beginnings.html
View ASC's Children's Religious Education Calendar
Check out the CRE calendar to see what's coming up!
Music@ASC
For more information about the following listings, please visit Music@ASC.
3 Concerts by Boston Chamber Music Society

Saturdays, September 23rd, November 11th, and March 10th ~ 11:30 am, Sanctuary
Join the Arlington Street Choir!
Every Thursday, Starting September 7th ~ 7:00 pm, Clarke Room
Experience the spiritual practice of communal singing! Take just a couple of hours out of your week to create something beautiful, make friends, and add more music to your life! Musicians and non-musicians are welcome—we are a mix of professionals and amateurs.
Unitarian Universalism
If you are new to Unitarian Universalism,
"Voices of a Liberal Faith — Unitarian Universalists"
is a great introduction. Click here to watch
this ten minute video!
Special Considerations for Special Needs
The Arlington Street public transit station re-opened in June 2009 and now provides handicapped access from the transit station to street level via elevators and/or a ramp. A separate part of the MBTA project created a wheelchair ramp leading from street level on Boylston Street to the church office door.
Handicapped access to the Sanctuary on Arlington Street is provided by a ramp on Arlington Street which leads to an entrance to the Sanctuary.
During worship services, and other special events, FM amplification headsets can be provided upon request. Braille hymnals are also available for Sunday services, as well as a large print version of the hymnal and each week's order of service. Please ask an usher for assistance.
Arlington Street Church has a wheelchair accessible restroom immediately adjacent to the Sanctuary.